Karen Hoffmann, MD, FAAOA, is board certified by the American Board of Otolaryngology-Head & Neck Surgery.
She completed a fellowship in Otology/Neurotology at the Silverstein Institute in Sarasota, Florida, which is an internationally respected practice that uses the latest innovative technology in developing minimally invasive surgical procedures to treat ear and sinus diseases. Dr. Hoffmann completed both residency in Otolaryngology-Head and Neck Surgery and an internship in General Surgery at Eastern Virginia Medical School in Norfolk, Virginia. During residency, she completed ground-breaking research in the use of bone cement in ossicular chain reconstruction supported by several research grants, published scientific articles and book chapters, and gave national and regional presentations. She received her medical degree from the University of Texas-Houston Medical School, where she was awarded an Alpha Omega Alpha Student Research Fellowship for research in Neurosurgery. She graduated from the University of Texas at Austin with a Bachelor of Business Administration degree with a major in Finance with highest honors.
Since joining Piedmont Ear, Nose, Throat and Related Allergy in 2007, Dr. Hoffmann has specialized in the medical and surgical treatment of patients with Eustachian tube dysfunction, ear fullness, sinus and allergy disorders, and hearing loss and chronic ear disease. She has successfully integrated compassionate and innovative care in private practice with clinical research. She has been a research investigator in two national clinical trials and was one of the active sites for patient enrollment for the FDA trial of balloon dilation of the Eustachian tubes. She also was a research investigator for the RhinAer device for treatment of chronic rhinitis. Additionally, she is one of a handful of surgeons in the country who treat patulous eustachian tube dysfunction, and she has been actively working with Dr. Marc Dean of the Ear and Sinus Institute in Fort Worth, TX, and Dr. Dennis Poe of Harvard Medical School in Boston, MA, to develop surgical techniques to treat this complicated problem.
Dr. Hoffmann has been a frequent surgeon expert on national panels at the American Academy of Otolaryngology meeting since 2017 and at the American Rhinologic Society Summer Sinus Symposium in 2021 and 2022. She was the keynote speaker at the Johnson & Johnson Innovation Summit in 2019 and is a frequent guest lecturer and national trainer for office-based procedures in rhinology and otology. She is on the forefront in advancing office based surgical procedures including balloon dilation of the Eustachian tubes, Balloon Sinuplasty, and treatment of chronic nasal obstruction. She is the Director of Otorhinologic Research at the Vitruvio Institute of Medical Advancement (VIMA), a non-profit organization of leading doctors researching cutting-edge technology and techniques to create better patient outcomes and lives.
Dr. Hoffmann and her husband are raising twin teenage boys and are outdoor enthusiasts who enjoy hiking, cycling and photography.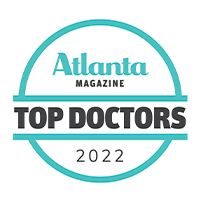 Professional Affiliations
See what patients are saying about Dr. Hoffmann